Meet Deric, Founder of Absolutely Unbelievable Entertainment
Why Would You Trust Deric Langton and/or His Hand-Picked Associates to Perform at Your Special Occasion?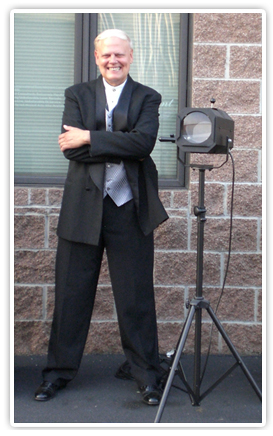 Well music runs in the family when it comes to Deric, founder of Absolutely Unbelievable Entertainment. His great Aunt was an opera singer in Russia. At the age of 6, first grade, Deric scored the highest in his school system (Willoughby-Eastlake) on a sound, pitch/dynamic range aptitude test. The dude has perfect pitch. At the age of 7 years old, a second grader, Deric sang solos with the sixth grade choir.
The Vienna Boys Choir from Vienna, Austria came calling while he was in Elementary school, but Deric opted to stay in NE Ohio and took a vocal scholarship to the Willoughby Fine Arts under the instruction of George Kleinfield. George was with the Cleveland Chorale, the vocal counterpart of the world famous Cleveland Orchestra.
Deric sang solos in his Junior High musical productions like "The Sound of Music" & "South Pacific". In High school he sang with the Willoughby South Choir at the World Exposition in Montreal, Canada. He also sang in the elite High School Madrigal and competed in the state of Ohio vocal competitions.
Instead of accepting one of four music scholarships to a major university, Deric accepted a baseball scholarship to Marietta College in southern Ohio. He majored in pre Law program of Political Science, History and Business Administration but also minored in music. He was selected over all the Music majors to sing at his College Commencement, singing "If Ever I Would Leave You" from Camelot. This was all just the beginning!
Instead of attending Julliard in NY city, declining the recommendation of his vocal Professor in College, Albert Gifford, himself a graduate of Julliard, Deric ventured into the jungle of Contemporary music.
For years Deric toured the Country, singing, playing guitar and some piano, and experimenting with comedy in Night Clubs, Resorts, and Hotels. Always basing himself in North East Ohio, a pattern he has never abandoned, Deric performed all over Ohio, the Eastern Seaboard, the Midwest, and even Las Vegas!
He hosted a TV show on cable television for 4 years, appeared on numerous radio and television shows across the country, and recorded his own album of original songs. Eventually tiring of entertaining on the road 8 months a year, Deric decided to change direction. Instead of relocating to LA, Nashville, or New York, the entertainment meccas, Deric began building an Entertainment Agency here in NE Ohio.
Drawing on his vast experience in live performance, radio, and television, Deric began building what has become a world class entertainment entity. Primarily concentrating on Disc Jockey and Karaoke presentations, Deric started with one rig and now has 15!
So in reference to that opening question of why YOU should TRUST Deric Langton and his Associates to handle your entertainment needs....the real question should be.....WHO ELSE?