Northeast Ohio Wedding Options
We have the Northeast Ohio Wedding Packages and creative Options to make any reception or event unique, exciting, and glamorous!
There is no other Company that can offer so much, so qualitively and bundle priced to boot! There is no such thing as a "cookie cutter" or "mediocre" event when you hire Absolutely Unbelievable Entertainment to MC and DJ! "We Deliver WOW...Guaranteed!"
---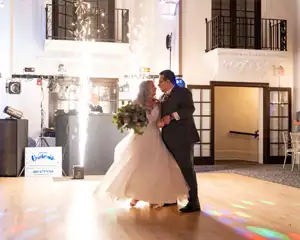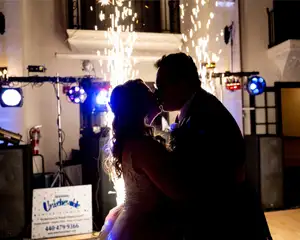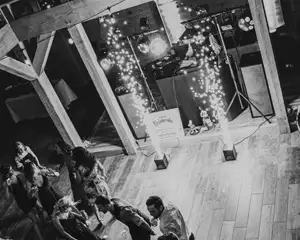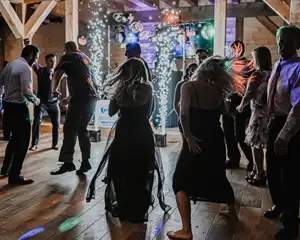 Indoor Fireworks
62 degree cold spark technology...10 to 15 foot high sparkler effect...no smoke or heat danger! Awesome backdrop to "The Grand Entrance", "The First Dance", "The Last Dance" and the "Dance Segment"!
---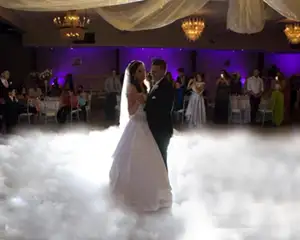 Dancing on the Clouds
Imagine that singular moment where you feel you are dancing in mid air, truly "Dancing on the Clouds". The first dance of your married life, simply unforgettable!
---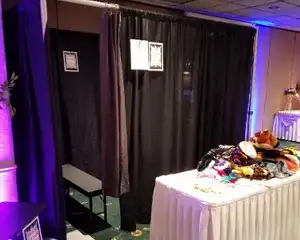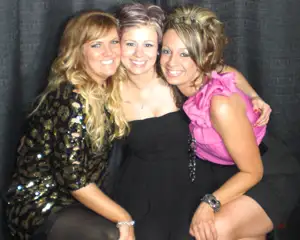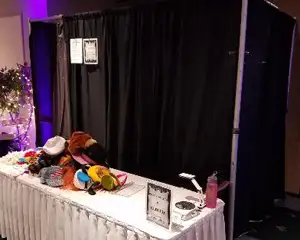 "AUE" Photobooths
The most high tech, versatile, reliable Photobooths anywhere. And the booth itself is huge. Can be adjusted in height and width but basicly is up to 8' high by 8' to 10' long with a width of between 6' and 8'! Photos are unlimited for the event plus they are either in black & white or color. You may sit on the included bench or stand to have photos taken...up to 12 to 15 people at a time!
Included in the Wedding Package is a beautiful scrapbook with your copy of all pictures taken, a flashdrive with all images taken, and use of our extensive prop box! Our props are theatrical props from all over the Country...Disney, Vegas, Scottsdale New Orleans & Memphis with sports hats from their Team Shops. We don't shop at the Party Store.
This is NOT the 2' by 4' attic crawlspace photobooth you have experienced at Cedar Point, the old Geauga Lake or even at other Weddings or events! AND...we bundle the Photobooth price when you order our award winning DJ service! (Oh... and did we mention our Photobooths are wheelchair accessible!)
---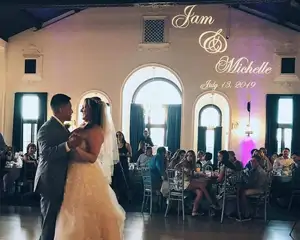 Gobo Lights
Picture your names (Bride & Groom) attractively projected on the wall or dance floor all night long. We have 3 styles...Monogram, Name/Date, & Rose/Name/Date to choose from. The quality glass gobo is yours to keep and display in your Wedding Album! We can also make up Gobos for any special event with your imagination being the only limit to creative possibilities!
---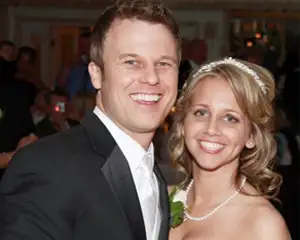 Glamorous Spotlight
Picture each couple in the Bridal Party entering the Main Ballroom during the Grand Entrance, each step being highlighted by our powerful, theatical spotlight! Enter the Bride & Groom to a rousing welcome with each step traced by this truly glamorous spotlight! Then during all the formal dances (the First Dance, Bridal Dance, etc.) we use a different color of light to highlight each couples' introduction!
---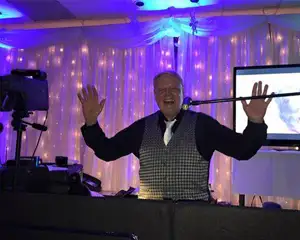 Laser Tree
Add this spectacular laser laden light tree complete with 4 totally different laser lights! Mounted high on the adjustable tree and pointed in different directons this special lighting add on is truly awesome!
---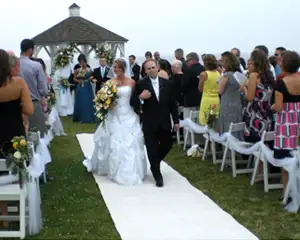 Ceremony Music
We can customize your Wedding Ceremony with beautiful music YOU can select performed on a small, portable sound system! A cordless mic is available for the Officiant.
---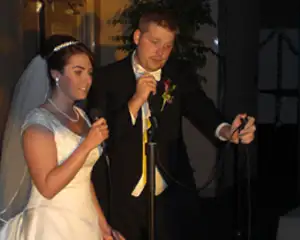 Karaoke
Karaoke is always a fun and entertaining Wedding Option! "Be the star that you are!"
---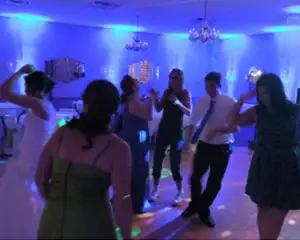 Up-Lighting
Experience the elegance & ambiance of our colorful Up-Lighting.Stand alone or DMX controlled. Call for more information on pricing. No two Wedding packages are the same! Staging is courtesy of La Vera Party Center in Willoughby Hills and the Wyndham Hotel in Downtown Cleveland.
---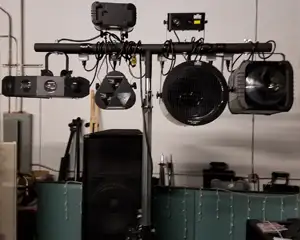 Godzilla Dance Light Tower
The largest and most impressive Dance Light Tower we have ever offered....6 Premium Dance Lights, 2 lasers, 3 exceptional motorized smart lights and 1 400Watt Black Light Cannon. Adjustable stand can rise up to 15'!!!!